The Three Barriers Holding Potential Entrepreneurs Back from Starting Up
HOME / Business Planning / The Three Barriers Holding Potential Entrepreneurs Back from Starting Up
What's Holding Potential Entrepreneurs Back from Starting Up? Here are the 3 most common barriers holding entrepreneurs back from starting up…
Last year, over 600,000 businesses started up across the UK, 4.6% more than in 2014 and, in fact, the highest number of new incorporations on record.
These impressive numbers suggest that there is an entrepreneurial trend sweeping the UK, but is this really the case? New insights from a Start Up Loans survey of 2,000 people suggest that these figures should only be the tip of the iceberg if potential business owners had more confidence and access to resources (both financial and knowledge-based).
Of course, taking the plunge to leave your secure, full-time job and start-up on your own can be daunting. It's the fear that stems from this uncertainty that means only a fraction of the people who have the entrepreneurial ambition to start-up their own business ever see their plans come to fruition.
With 58% of Brits dreaming of starting their own business, we take a close look at the survey findings to find the three most common barriers holding entrepreneurs back from starting up…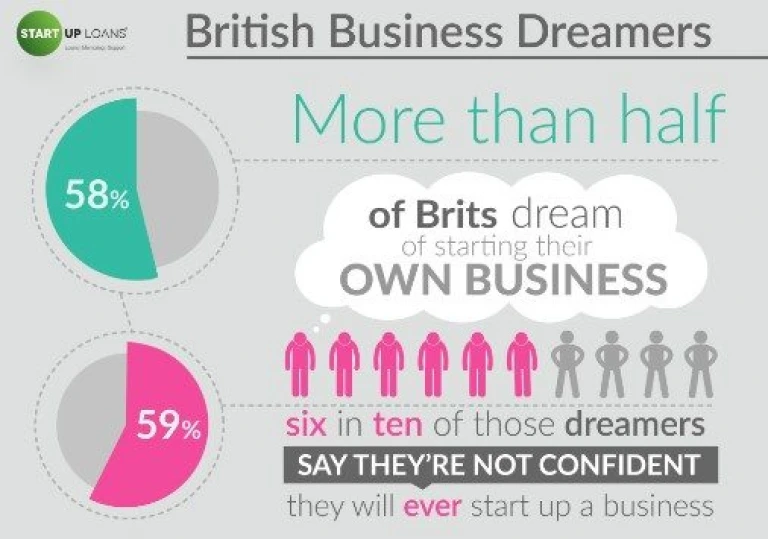 The most significant barrier to starting up revealed in the survey was a lack of confidence. Six in ten people surveyed that had stated that they dreamed of opening their own company said they were not confident that they would ever start up a business. Start Up Loans found that the fear of failure (10.50%) and the associated risks of setting up alone (11.25%) were some of the most common reasons holding people back.
2. Funding and Financials (42.50%)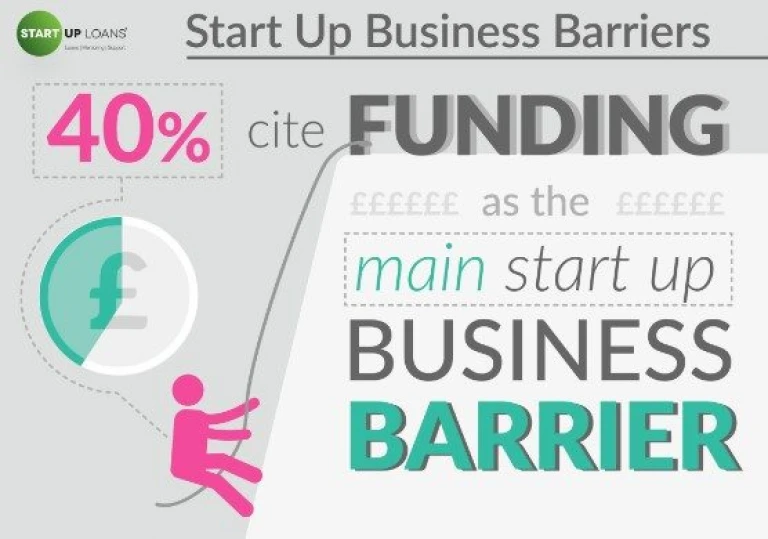 Financial-related risks and uncertainty was found to be the second biggest barrier to those considering starting a business. This included being the main salary earner and the risk of failing and losing this stream of income (13.30%) as well as not having the funds to start up (12.45%), fear of being unable to pay bills (7.30%), lack of savings (6.30%) and worries about handling tax and other red tape alone (3.15%).
3. Knowledge and Resources (9.70%)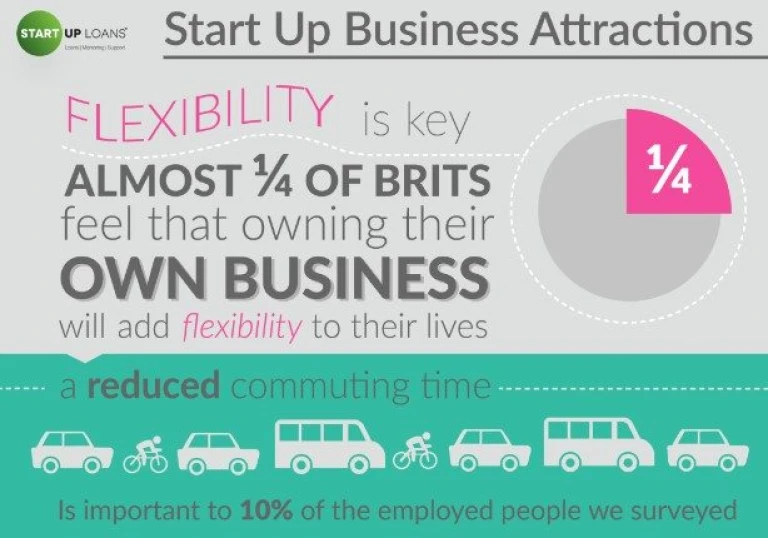 Finally, almost one in ten people indicated that access to more resources would be gratefully received. 7.20% felt that they had a lack of knowledge and experience which meant they felt unable to go it alone, while 2.50% stated that they had their business idea ready to go, but just didn't know where to start.
Lack of time, family commitments and having no one to turn to for advice were found to be relatively uncommon barriers (2.50%, 2.25% and 0.20% respectively).
Of course, the above fears and uncertainties are barriers that most of the entrepreneurs we have supported have faced at one time or another. It's because of this experience that we can not only relate, but that we know they can be overcome and those with ambitions can make their business dreams become a reality.
On that note, from the same survey, here were the top five attractions cited as reasons to set up your own business:
1. Flexibility (working hours, working location) – 24.15%
2. Being your own boss – 22.40%
3. Potential earnings – 12.20%
4. Self-achievement – 6.65%
5. The opportunity to pursue your hobby as your business – 6.00%
At Transmit Start-Ups, we understand the fears and reservations that people have before taking a leap into the unknown (i.e. self-employment). Our directors and business advisers have all run businesses for many years and we all remember setting up our first businesses, like it was yesterday!
We understand very well the demands on entrepreneurs and what is required to set up and build businesses, in fact we still consider Transmit Start-Ups as being a start-up itself. We incorporated the company less than 3 years ago so we are still learning how to scale a business and we face new challenges every single day – but that's part of the fun right?
What we have learnt over the last 25 years is probably considerably more than we sometimes realise, and there is nothing we like more than passing on our knowledge and experience to new start-ups.
To find out more about start-up loans, financial advice and the general support and mentoring offered by Transmit Start-Ups, contact us today.
Image Credit: Start-Up Loans
"We're delighted to be the 2000th loan recipients!"
JO CARTER – DUKES GASTROPUB
Entrepreneurs Backed
10962
APPLY FOR A START UP LOAN