The Future is with Hivehaus
Providing the perfect link between modern housing and the loving feel of nature has always been something that designers have pondered upon.
Now, with the introduction of Hivehaus, Barry Jackson has merged the two creating a serene and interchangeable environment, adaptable for the needs of the inhabitants. Its eco-friendly nature means that it is economically viable for a permanent house solution.
Barry Jackson, 51, who lives with his wife and daughter, came up with the idea when trying to find a place to live while he rebuilt his cottage home. Barry has held many jobs in the building industry from joinery to roofing which have proved extremely helpful in bringing this idea to life.  The original idea was taken from a child's building set using hexagons and from there, his ideas flourished. The flexibility of the units are one of the many strong points that Hivehaus has to offer, allowing inhabitants to add 'cells' wherever they see fit, .
Transmit Start-Ups have provided him with a loan which has helped him to develop Hivehaus away from his day job as a self-employed builder, giving him the time he needs to advance concepts further. He said: "The Transmit Start-Ups funding has been really invaluable as it enabled me to really concentrate on my prototype and not worry about how I was going to pay my bills. I was able to hit the ground running with my idea which has been fantastic. Their support has helped me get Hivehaus from an initial concept to launch in just 18 months."
Richard Myers, director, Transmit Start-Ups said: "Barry's business will be a great success as the interest in his product is already so substantial, even before its formal launch. Grand Designs Live is the perfect showcase for the Hivehaus and it is sure to be a massive hit at the event. We are delighted to have played our part in him taking the product to market."
The ingenuity of the idea that would allow both permanent and temporary housing has recently grasped the attention of George Clarke's Amazing Spaces on Channel Four, which it had been featured on. Through this coverage, Barry's website has had over 100,000 hits and various enquires have led to proposals of a hotel in the Maldives, a Canadian who wants to build a pod on top of his penthouse roof and authorities interested in providing low-cost housing. The cost of the a standard 'cell' is as little as £10k.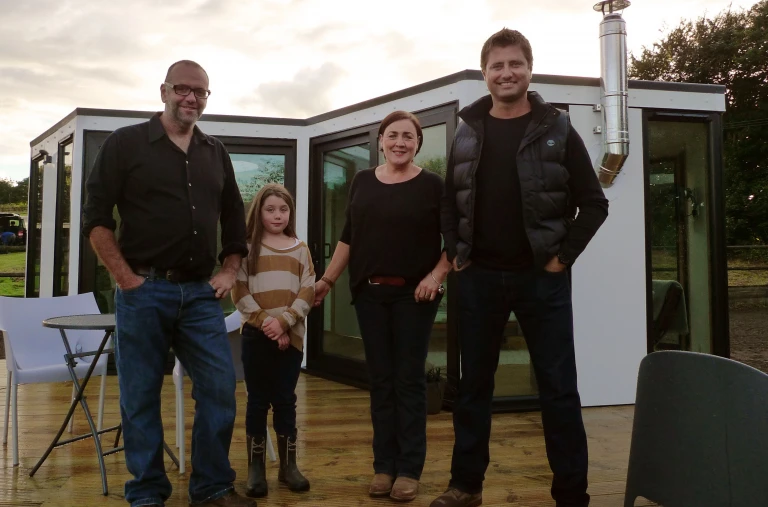 As a keen designer and photographer who has had work featured in publications such as Digital Camera magazine, he sees his living space concept as a brilliant combination of  both.
Barry is currently finalising deals with the manufacturers who will produce and assemble the Hivehaus models and he is already thinking about his next innovation, which will be aimed at helping homeless people get shelter.
Details and FAQs are located on Barry's website as well as further information for loans on Transmit's website.
https://www.youtube.com/watch?v=jpmRo58hLSw
"We're delighted to be the 2000th loan recipients!"
JO CARTER – DUKES GASTROPUB
Entrepreneurs Backed
10962
APPLY FOR A START UP LOAN