Five tips for completing your business idea template
Completing your business idea template to help plan and fund your new business? Our advisors have put their heads together and come up with a top five tips to help you get through the whole document quickly. Follow our five top tips for less stress - and hopefully a yes - when you're applying for a start up loan with us.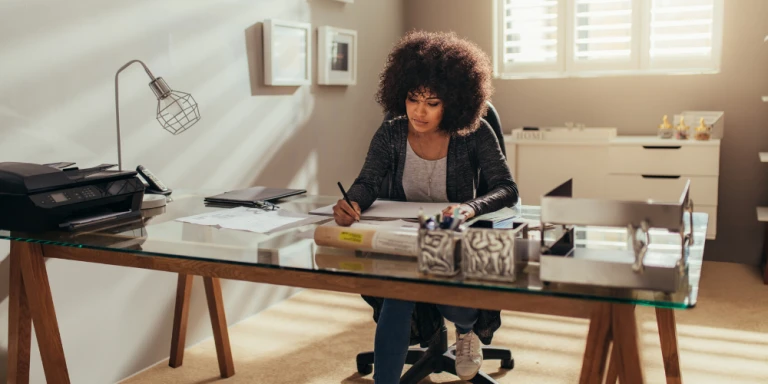 1. Work through one section at a time
The template document is broken down into six sections which each cover a different aspect of your business.
Aim to work through these sections one at a time, tackling each question individually. Begin with the foundations and build up the rest of your plan from there.
2. Use the prompts
Many of the questions in our business idea template have prompts to help you with your thinking and break down the question further. Use these prompts to answer as fully as possible.
It can be helpful to think "If somebody was asking me to loan them money, what would I want to know in order to have confidence in their idea?"
The business idea document is about you carefully considering how you will go about setting up your business, just as much as it is about demonstrating that your idea is good to your adviser.
3. Put yourself in the readers shoes
While your business idea may make total sense in your head, remember your goal: you are aiming to explain why it can be successful to other people.
This means making sure that you spell things out as clearly as possible.
A good way to think of it is to assume that the person reading your business idea document knows absolutely nothing about you, your business or your industry (which is often the case) and therefore needs to understand as much as possible about what you are aiming to do.
4. Provide evidence to support the things you've written
Make sure you can back up the things you've written in your business idea document. This will help validate your idea, as well as give confidence to the reader.
emails from potential customers saying they are interested

copies of market research you have done

certificates for relevant qualifications or training courses

quotes for the things you need to start your business
If you are already trading then providing evidence to show what you've done so far can be invaluable.
5. Your first draft doesn't have to be the finished article
Your Transmit Startups business adviser is on hand to help get things into shape, so don't agonise about getting every single detail and scenario in there. Aim to write down your current plans and then take on-board any feedback we provide.
The process of thinking through the questions and feedback will stand you in good stead for understanding the most crucial aspects of your business in future.
Next steps "We're delighted to be the 2000th loan recipients!"
JO CARTER – DUKES GASTROPUB
Entrepreneurs Backed
10962
APPLY FOR A START UP LOAN