Banking with Tide & Transmit Start-Ups
If you enjoy waiting in queues, filling out paperwork and organising in-house meetings with your bank - Tide is not for you. If you'd like to save yourself time and money with your business banking, read on!
Tide know that business owners didn't start their business to spend time banking. So their aim is to stop you wasting time on banking and admin, and get back to doing what you love.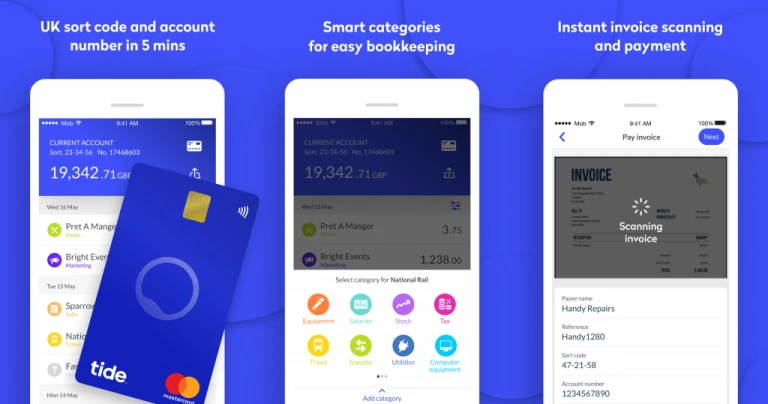 Open a business current account in 5 minutes
Decided to set up a business and need your bank account ASAP? You can open a business current account in 5 minutes by simply downloading the Tide app on your phone. All you need to do is take a photo of your ID, take a selfie, and enter some basic information about yourself and your business. You will receive your sort code and account number straight away, so you don't need to wait around to get started.
No monthly fees
Starting a business can be daunting, and we know this. Don't worry though, we won't charge you any alarming or unexpected bank fees, ever. It's free to signup, free to use your card and there are no monthly, or annual fees. The only cost is 20p to send or receive money from a non-Tide account and £1 to withdraw cash from an ATM.
See what you're spending
The app itself is packed with useful tools to save you time as well. If you're worried about managing your spending, we've got it covered: our auto-categorisation tool allows you to see exactly where you're spending (or over-spending).
Create invoices in the app
You can create and pay invoices straight from the app- no more waiting around to be paid.
If you prefer to manage your accounts from your laptop or computer, no worries! We have an online desktop version of the Tide app, so you can log in and do your banking there too.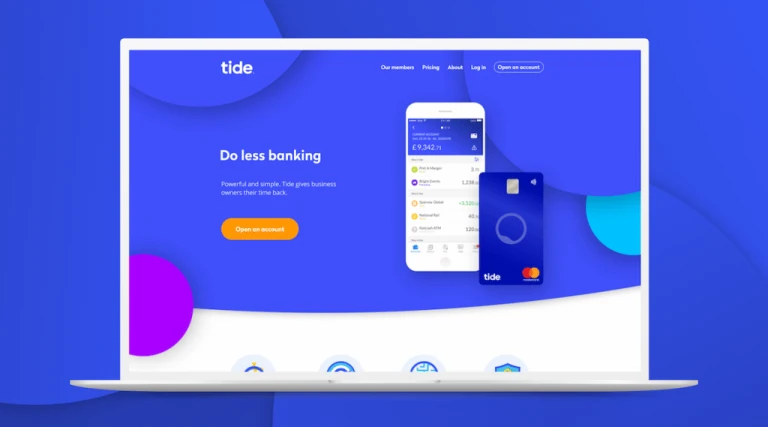 Feel safe and secure
Sometimes, we get questions from members regarding our security- concerns over whether our modern business banking service is secure and reliable. We're delighted to reassure them that banking with us is fully secure. Tide's financial services are provided by Prepaid Solutions (PPS), an FCA regulated company that operates with an e-money license. Consequently, we never touch or re-invest your funds, and these funds are held in an FCA-regulated ring-fenced account to keep your money safe.
Get startup support
Tide works directly with Transmit Startups, and whatever your new business venture,we're both rooting for you! As well as assistance seven days a week from Tide's Member Support team, you'll have ongoing guidance from your own mentor, thanks to Transmit Startups. The combination of advice and guidance from both parties will set you in excellent stead on your journey to entrepreneurial success.
Want to explore what funding you're eligible for via Transmit Startups? Check out our Start Up Loan calculator. "We're delighted to be the 2000th loan recipients!"
JO CARTER – DUKES GASTROPUB
Entrepreneurs Backed
10962
APPLY FOR A START UP LOAN