How to go freelance after redundancy
Are you considering going freelance after losing your job? Redundancy is hard. But it might be the catalyst you need to start a successful freelance business. If you're thinking about becoming a freelancer, we've got four key questions to ask yourself first.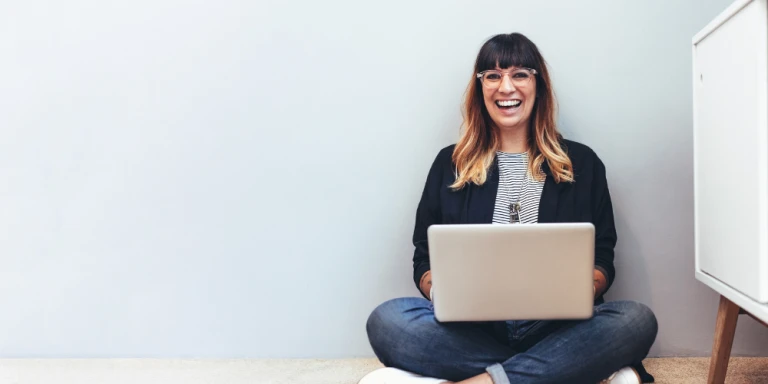 What does 'going freelance' mean?
Going freelance just means that you no longer offer your services via a business, you offer them as an individual. There are lots of in-demand professional skills that lend themselves to freelance life.
From graphic designers to cake makers, and accountants to fire safety specialists, you might be surprised what you can do in a freelance capacity.
What are the pros and cons of going freelance?
Freelancing certainly offers flexibility in terms of how and when you work. You get to choose the who, what, where and how of your business. But it can be stressful, as you'll be responsible for everything from finding work to filing your accounts.
What do I need to think about before going freelance?
There are an estimated 2 million freelancers in the UK. If you want to join them, you should ask yourself these questions.
1. Is there demand for my skills?
If you have been made redundant, this may be because of a downturn in demand for the skills you have to offer. Make sure there is a need for your services before investing time and money in your freelance business.
2. Have you got money to live on?
It can take time for a freelance business to take off. Expect to have several months at the start where you are pitching for work but not bringing in any income.
It is recommended that you have between 3 to 6 months' worth of living expenses in the bank before you plan to go freelance. However, if the decision has been forced by redundancy, just make sure you understand that you won't earn straight away and plan accordingly.
3. Are you allowed to go freelance?
Some businesses include a clause in termination or redundancy agreements that prohibit former workers from working in their sector or contacting their clients for a fixed amount of time. Check this out before you start planning your freelance business.
4. Are you suited to freelance life?
Freelance life can be wonderfully rewarding. But it can also be stressful, busy and lonely. You'll have to make all of the decisions, do all of the work, and tout for trade alongside delivering your services. Consider speaking to other freelancers to fully understand what you're considering. Check out our personality quiz for budding entrepreneurs.
If the answer to these four questions is yes, congratulations! Today could be the first day of your freelance life. It is a lifestyle that two million others share and swear by.
Next steps "We're delighted to be the 2000th loan recipients!"
JO CARTER – DUKES GASTROPUB
Entrepreneurs Backed
10962
APPLY FOR A START UP LOAN