The 10 best ways to find business networking groups
HOME / events , Marketing & Sales / The 10 best ways to find business networking groups
You know that networking can be the lifeblood of business success... but how do you find networking events near you?
From national networks to informal local gatherings, there are plenty of opportunities to meet other business owners. Social media, digital marketing and online events have made it easier than ever to find and participate in networking events. Here's our top ten opportunities to explore.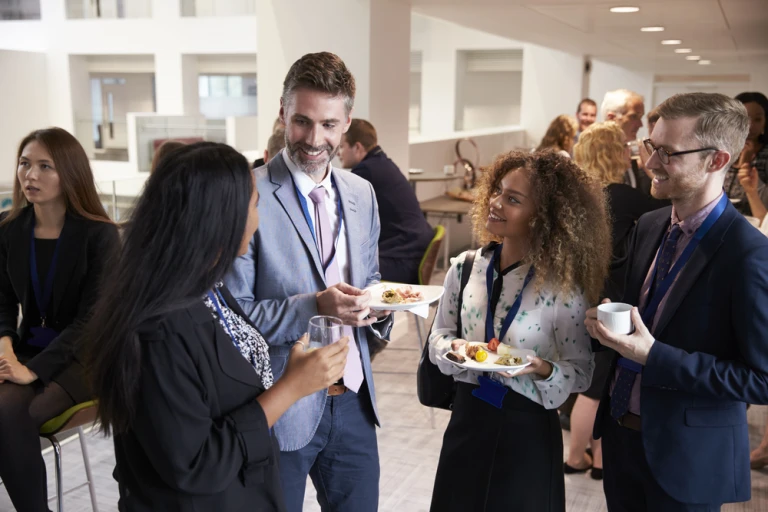 1. Business Networking International
BNI
is the longest established networking group and has groups known as 'chapters' all over the UK. Only one person from each 'trade' is allowed in each chapter, so it isn't any good for networking within your sector. But it can be good for business referrals. It can be highly effective but requires a lot of commitment.
2. 4Networking
4Networking
is a fast-growing alternative to BNI, which positions itself as a more flexible and less formal way to network. You can network online or have a 4N 'passport' which lets you attend groups anywhere in the country.
3. Chamber of Commerce
Your local Chamber of Commerce will also run its own networking events and groups and should also be able to advise you of other events going on in your area.
4. Federation of Small Businesses
The FSB run virtual networking events. During Coronavirus, they are free and open to all small businesses and self-employed people in the UK.
5. Co-working spaces
Many co-working spaces offer opportunities for both formal and informal networking. Working in a shared space presents the opportunity to meet other small business owners from a wide range of sectors. If you don't want to commit to working from a shared space all the time, some groups offer a single coworking day, often with a group lunch. Check out Colleagues on Tap for example.
6. Professional bodies
Professional bodies often provide a members area where you can network with people in the same professional sector as you. Providing helpful advice and guidance to others in the group can establish your reputation as an expert and create goodwill with people who may, one day, need to refer on work.
7. Networking membership groups
Networking membership groups are very popular, particularly for freelancers and small business owners. They will usually be focused on a specific geographic and business area. They charge a monthly fee for membership and include various benefits such as access to members' talks, business surgeries etc. MINT Business Club and Fundraising Everywhere are two examples.
8. LinkedIn
LinkedIn is the world's largest online networking site. It is a great place to connect and chat with other professionals online. But it also has an events search that you can use to find virtual and physical events near you. Simply type your sector into the search function and filter the results by 'event'.
9. Eventbrite
Eventbrite sells tickets on behalf of individuals and organisations. If you search 'business' or 'networking' in your local area, you'll find lots of different events. Some of them will be free of charge but require you to book your place through the site. You could also look at sites like Findnetworkingevents.com and Meetup, which is good for finding specialised groups.
10. Facebook
Facebook
is increasingly business-orientated. There are a huge number of 'closed' groups dedicated to regional, national and sector-specific networking. Closed just means that you need to ask to join and agree to the group rules. Some of these groups can be extremely active and provide excellent opportunities to network and pitch for work.
11. Ask people!
If people are deriving genuine value from a business network or event, they'll be only too happy to share that with you, so make sure you ask like-minded business people you meet how and where they make their contacts. It sounds obvious, but so many people don't ask!
If you run a business that is under two years old - or if you're thinking of starting a business - you could be eligible for a Government-backed Start Up Loan. Find out how much you could borrow with our Start Up Loan calculator. "We're delighted to be the 2000th loan recipients!"
JO CARTER – DUKES GASTROPUB
Entrepreneurs Backed
10962
APPLY FOR A START UP LOAN