Start-Up Stories: McCormack Partners, the Home of Roofing
HOME / Success Stories / Start-Up Stories: McCormack Partners, the Home of Roofing
Celebrating the success of our entrepreneurs is something we take very seriously. With 4611 entrepreneurs backed and £45,942,930 money lent to date, we've spent the last five plus years supporting the UK's entrepreneurs and helping them to realise their dreams and get started on the road to building their own businesses. 
We caught up with one such entrepreneur, Luke McCormack, 24, who is the Founder and Owner of
McCormack Partners Ltd
. A recruitment company that specialise in partnerships within the Roofing Industry, Luke explained how he got his business started and the steps he has taken to achieve success.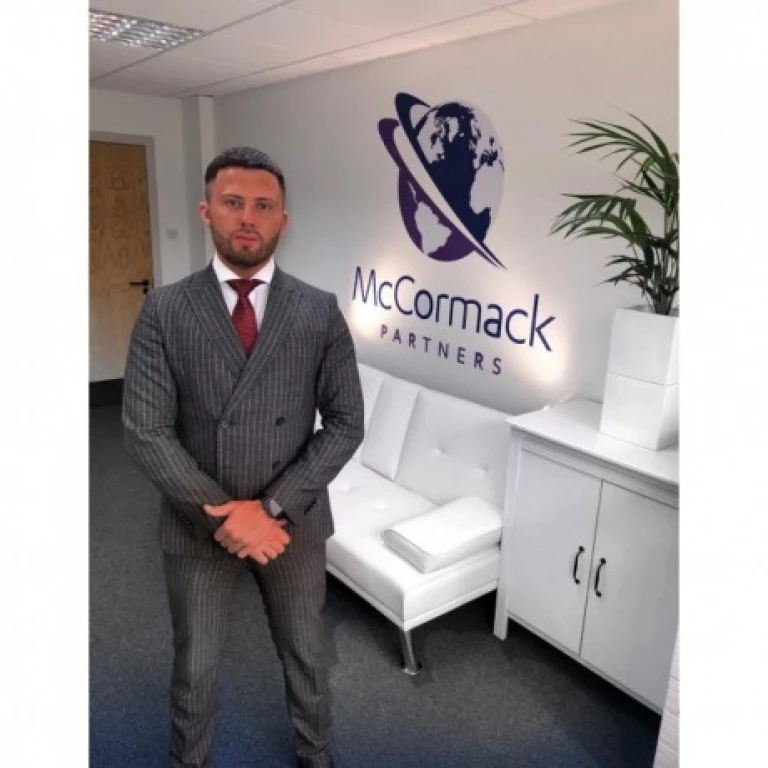 What does your business do?
McCormack Partners is the only recruitment consultancy in the United Kingdom who recruit exclusively into the roofing sector.  Our specialisms within our sector include delivering executive search, sales recruitment and commercial appointments to leading manufacturers, distributors and major contractors. Our staff has firmly established McCormack Partners as a leader in our sector and we have references from £1million turnover SMEs all the way up to £3.2billion turnover market-leaders.
Where are you based?
Our head office is at the Scottish Enterprise Technology Park in East Kilbride and we have satellite offices in Manchester and London.
How did you get started?
I started the business in the bedroom of my flat on Byres Road in Glasgow, with nothing but a phone, laptop and a £15 whiteboard that I got from Gumtree!
What is your background?
When I left school, I knew the university route wasn't for me. I always admired self-made entrepreneurs and I just wanted to get stuck into business straightaway. I attained an apprenticeship with Barrhead Business Travel which provided me with the hands-on experience of how the 'cogs of the machine' work in a large organisation. After this I joined a start-up recruitment agency called Silverback where I learned the daily grit required to get a start-up business off the ground. After two years I realised that by working at a start-up, I had the perfect platform to excel in business myself. Late in 2016, when I was 21, McCormack Partners was born. Taking the leap has been the best decision I have ever made in my life and I think it's important for the upcoming generation to know that university isn't the only option to become successful – as long as you have passion, perseverance and persistence, backed up with a clear vision of your version of success, anything is possible.
What is your top tip?   
My top tip for anyone starting out in business is to be as inquisitive as possible with people more advanced than you in the field, and be an absolute sponge with the knowledge being shared with you. I've found that so many people are willing to share their pearls of wisdom with you, if you simply just ask for help. It's also extremely beneficial to take this a step further and find a mentor who is where you want to be in business. This way you can learn from their mistakes and grow the company much faster than trying to take all the problems on your shoulders alone. 
How long has your business been running?
McCormack Partners has been successfully running since 2016 and we are now in our third year.
Has anyone helped you get started and how?
Before I had taken on my first real member of staff, I received a £15,000 loan from transmit start-ups which completely alleviated my cash flow concerns and allowed me to focus solely on growing my business. Transmit Start-Ups (particularly Michelle Doherty) were amazing in helping me structure and plan the application for the business loan and the payment terms were fantastic.  The speed of the process was also great. I have recommended Transmit to many start-up businesses in order to give them the cushion they need to grow their business and continue to do so.
What was your first deal?
I'll never forget my first deal. I was working with a market-leading firm and managed to poach an Estimating Manager from their rival firm. Fast forward 40 days and I had my first fee in the bank, £7,800 – just about half of my previous annual salary! That was an amazing moment. 
What would you do differently?
My biggest mistake when starting was chasing the money. I recruited a consultant who had four times the experience I had and committed to a salary much higher than I could afford because I was blinded by their potential ROI. A hard lesson to learn, but grateful I learned it at such an early stage. 
Who was/is your mentor/or inspiration?
I have a few mentors in my circle. One is David Broom, who is the Vice Chair of the Institute of Roofing and the Sales Director of a leading roofing manufacturer. David mentors me and my employees on the ins and outs of the roofing industry and advises me on my marketing. My other mentor is Zoe Hamilton of Jarvis King, Zoe is a recruitment business owner, a psychologist and business investor who is much more experienced in recruitment than me. Both Zoe and David have been fundamental in my success (and mental wellbeing!) and have allowed me to learn from their experiences and pitfalls in business.
Where do you plan your business to be in five years time?
In five years time I would like to sell the business to a larger corporation who focus on recruitment within building materials. There really is no other company in the UK only focusing on roofing recruitment so I am sure that if we continue to service this sector with honesty, integrity and transparency then people will be knocking down our door for a slice of the cake!
[fusion_text columns="" column_min_width="" column_spacing="" rule_style="default" rule_size="" rule_color="" hide_on_mobile="small-visibility,medium-visibility,large-visibility" class="" id=""]
If Luke's story has fired up your creative juices and you want to find out more about starting up a business for yourself, register with us now and begin the first step of your entrepreneurial journey. "We're delighted to be the 2000th loan recipients!"
JO CARTER – DUKES GASTROPUB
Entrepreneurs Backed
10962
APPLY FOR A START UP LOAN