Meet Jenny, a one-woman furniture restoration team
HOME / Success Stories / Meet Jenny, a one-woman furniture restoration team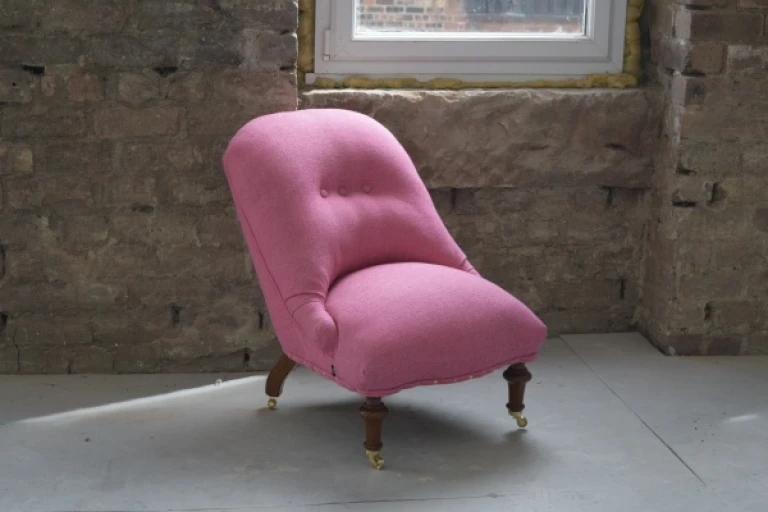 We love catching up with our loan recipients to see how they've translated their business plans into reality. Based out of Glasgow, Turnstyle13 was borne of Jenny's love of working with tools and with her hands...
What does your business do?
I restore and redesign furniture, taking old and unloved pieces and turning them into bright-bespoke pieces. I love my furniture to be bold and colourful – something you can't buy in the shops. I do a bit of everything from joinery to French polishing and upholstery to spray painting.
I'm based in Glasgow's east end.
I mentioned that I loved working with hand tools when speaking to a career advisor and she suggested trying a furniture restoration course at college. I had no intention of starting a business but when I started the course my love for furniture, fabrics and French polishing was born and I knew then that this was what I wanted to do.
Don't give up, if you love what you do. I think getting to know other business owners helps too, as they get it, and its good to have these people to talk to, bounce ideas off, and support each other. I have a great group of business buddies.
How long has your business been running?
I started Turnstyle13 in 2015 after finishing college. It was a slow starter as I wasn't sure how to run a business and I'm still learning. As a one-woman band it can be a struggle to try and do everything but it has been good learning new skills.
Has anyone helped you get started and how?
I got a Start Up Loan from Transmit Start-Ups to get things off the ground. The money helped me to buy some machines and tools as well as some fabrics and other bits for the business. Having that initial backing helped me to be able to grow.
What was your biggest mistake/what would you do differently?
Everyone makes mistakes and I think that's a good thing. I've made a few mistakes but I wouldn't change anything because they've helped me and my business grow and go in the direction that I want it to. As for doing things differently, last year I made the decision to stop taking on commission work as wanted to focus more on my own furniture designs.
Who was/is your mentor/or inspiration?
My family and friends are definitely my mentors and they give me advice too.
Where do you plan your business to be in five years time?
I have so many ideas of where I want Turnstyle13 to go. I would love my own shop with a wee workshop in the back. Selling my furniture, interiors as well as some other stuff. "We're delighted to be the 2000th loan recipients!"
JO CARTER – DUKES GASTROPUB
Entrepreneurs Backed
10962
APPLY FOR A START UP LOAN