2015 has been a great year for Transmit Start-Ups and the Start Up Loans programme. We have approved considerably more loans than we anticipated and that is purely down to the quality of the entrepreneurs who have approached us.
We have now approved 941 loans (at time of writing) and we hope to hit our 1000th approval in January. We have a nice surprise in store for that lucky person, so keep a look out in January for #1000StartUpLoans. Our total loan value to date is over £7m.
We received an incredible 4000 loan applications in 2015, an average of 333 per month. In September, while the TV campaign was running, we had a whopping 601 applications come in.
Analysis of Q2 (Apr-June) showed that Transmit is now the 3rd largest delivery partner in UK, based on loan volume.
Of course, Transmit is only one of a number of Delivery Partners across the UK. The national total of loans approved to date is nearly 35,000, which has created 50,000 jobs. In the recent Autumn Statement, George Osborne announced that Government feels that the programme is performing incredibly well and it will continue to support it for the rest of its term.
But, there is still a lot of work to be done. The national target is another 10,000 loans per year, over the next 4 years, totalling 75,000 loans. Here's to 2016!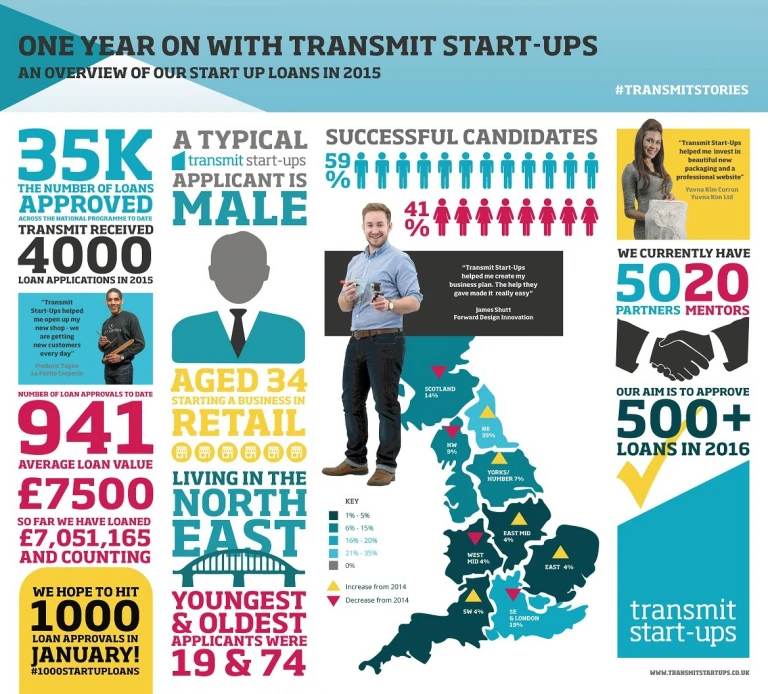 "We're delighted to be the 2000th loan recipients!"
JO CARTER – DUKES GASTROPUB
Entrepreneurs Backed
10962
APPLY FOR A START UP LOAN