Mega Milestones: TourLife Goes Full-Time
Headquartered in Somerset, England, TourLife is the go-to name in the music business for European tour videography, photography, merchandising, brand partnerships and tour management.
Founded by Harry Parslow, TourLife work closely with some of the world's leading acts to take care of tour video, merchandising and backstage opportunities as well as produce content and campaigns that capture tour moments for both fans and artists that can be instantly shared.
We caught up with Harry to find out how his business came to be and to hear more about his exciting plans.
Tell us about your business? What made you start your own business and how did you go about starting up?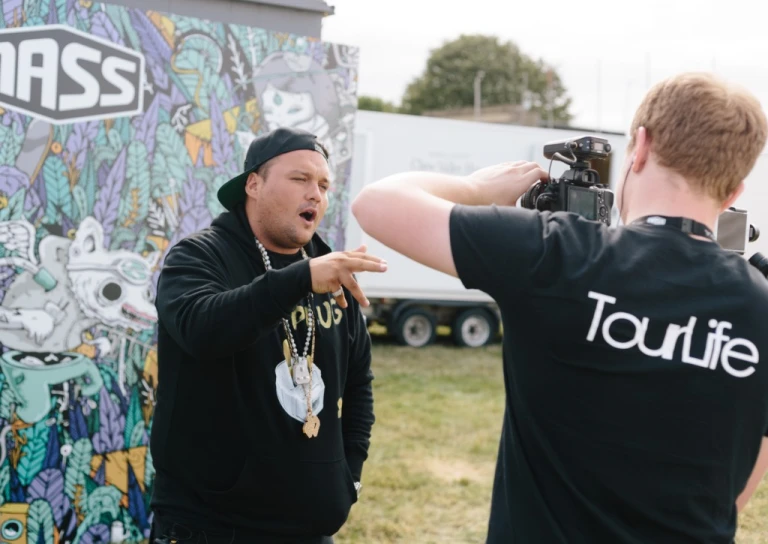 Image: TourLife at Nass Festival working with BBC Radio 1Xtra's Charlie Sloth
When I was 14 I bought tickets to see the rapper Xzibit perform in Bristol.  I left school early that day in hope of seeing some of the crew arrive at the venue. Just seeing the tour bus pull up, the entourage walk into the venue, to me they were the coolest people in the world. I recognised the tour manager from featuring in one of the previous videos so ended up asking him a few questions about what it's like to tour with a rapper. The tour manager was called Big Phil, and just before the show started he came out to the front and told me and my friend that we could meet Xzibit after the show for a picture.
From that one taste of being 'backstage' with an artist, I just knew I had to work in music.
I spent every moment from then trying to find an in, I chose to study music, media & film at school and then in the first week of college we were told that we could borrow any of the college cameras to take home and film. That day I went straight to the O2 academy to wait outside to try and find a way to film the Mac Miller concert. I had no idea how to actually get access I just was a kid with a camera hoping for the best.
This time the tour manager wasn't as friendly as Xzibit's - I got told to 'fuck off with that camera' after I asked to film the show - good first impression. I didn't leave and waited after the show by the tour busses and saw the support act 'Rockie Fresh' walk out the back door to his tour bus. I said 'Hi Rockie, I run a YouTube channel called TourLife (we didn't have 1 video) can I interview you about what it's like to be on tour in the UK'. After the show one of the venue staff came out to tell me that I couldn't just turn up with a camera and had to go through the correct channels such as artist managers etc to be able to properly work with the artists playing at a concert. At the time I didn't realise how helpful that advice was but that week I must've sent 100 emails and the first person that gave me a chance to film was Ayah Marar & MC Ad-Apt, it was the first time I got an actual backstage pass and worked with an artist to film a behind the scenes video. From then on we gradually grew from being on the 'press' side doing interviews with artists to becoming what I always hoped TourLife would be - a go-to company for touring music artists.
Fast forward four years and we are fortunate enough to work with some of the biggest artists, DJ's, bands and brands in the industry.
What has your business achieved over the last year? What is your favourite success story to date?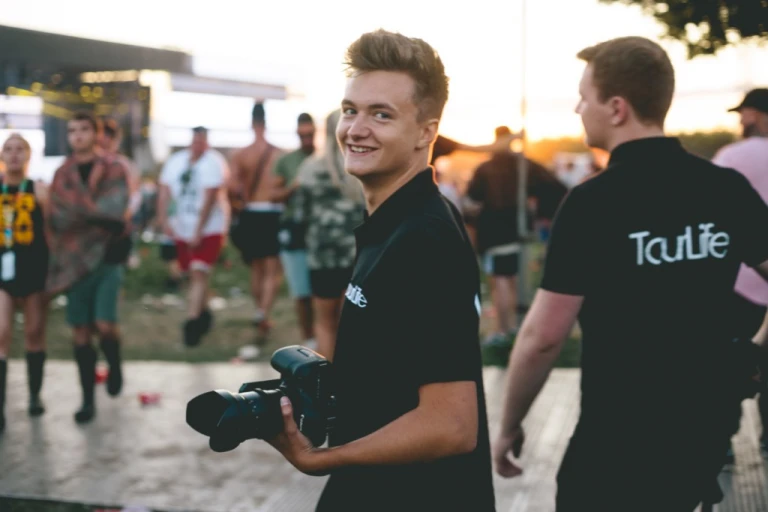 Image: TourLife full-time staff Jordan and Tom
Going full time with the same team I've known since college is without a doubt the biggest achievement. Tom and Jordan are incredibly passionate about what they do, they aren't afraid to put in the hours and although we're nowhere near where we want to be, the sacrifices are paying off.
Making the jump from working 'real jobs' to being able to do something you get excited about everyday is incredible - it's even better when you work with people you genuinely love.
Personally, my favourite success story besides  going full time with some of my closest friends,  has to be going out to LA, meeting with Xzibit and then ending up touring across Europe with him. I'll never forget that.
What have you learned from your first year in business? Is there anything you would do differently?
Don't bite off more than you can chew. I think when you're a small business you try to take on every job under the sun, I think we did this, not even from a financial point of view but more so because we didn't want to disappoint clients. We made errors on our part which could've been avoided by just saying 'no'.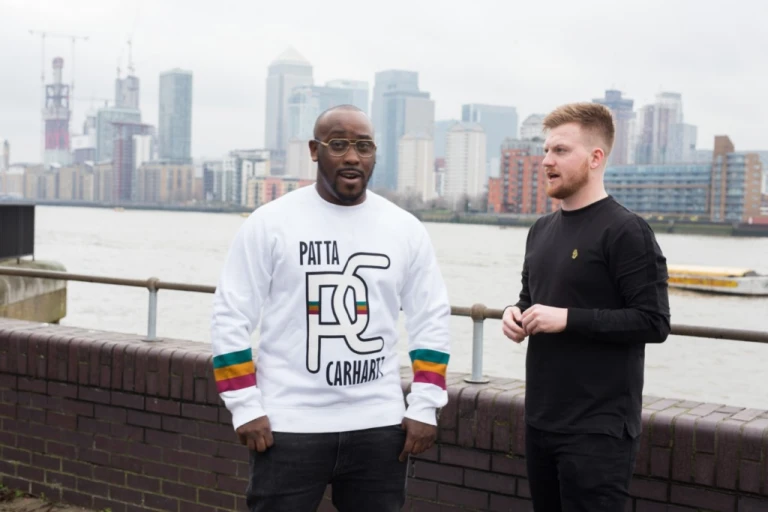 Image: Kenny Allstar (left) Harry Parslow, TourLife founder (right)
Have there been many challenges you've had to overcome?
Cash flow. It can be very difficult for a small company like ours to foot the bill for a month of touring expenses that won't be paid for 90 days. As the company grows this becomes a less frequent problem but I think many businesses still have a hard time juggling it.
Have you taken on any outside financial support?
Although we are yet to take any outside money, I genuinely recommend looking into the different funding avenues. If you're passionate and truly believe the financial boost will get you to where you need to be, I think it makes sense to invest that money into doing something you love.
I like to read what other entrepreneurs are doing, I listen to podcasts, I read their interviews on Transmit, I download e-books and do everything I can to try and be the best at what I do.
If you could give one tip to a new entrepreneur, what would it be?
If you aren't prepared to do it for free, don't do it for the money.
Photo credit: All photos are by Connor Baker.
"We're delighted to be the 2000th loan recipients!"
JO CARTER – DUKES GASTROPUB
Entrepreneurs Backed
10962
APPLY FOR A START UP LOAN