New Loan Processing Platform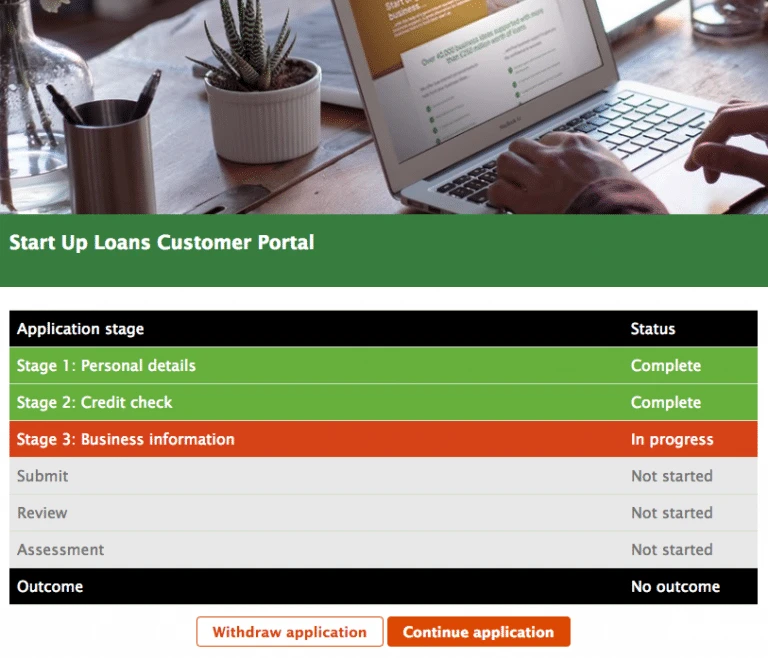 From 1st June, applications will be processed through a new platform which has been developed by Start Up Loans. This will mean some changes for how we work with you and your referrals.
A new platform for processing loans is being rolled out by Start Up Loans, a product of the British Business Bank, from 1st June.
Every new application that comes in will go through this new platform and the application journey will be led by the customer, within a Customer Portal that they log into.
The new platform will give customers a much clearer view of the status of their application and what they need to do next. Their credit check and eligibility will be automatically assessed by the system and a decision will be shown within a couple of minutes, making the initial stages of the process much quicker than at present.
The client then has the opportunity to securely upload their documents directly through the website and when they submit the application we are notified it is ready to review, making for a much more streamlined process.
This all means, however, that the way you work with your clients and the way we work with you will change.
If you work with your applicants face to face, you can work through the application form with them and submit the finished documents directly through the Customer Portal.
If you work remotely with your applicants, they can upload them via the Customer Portal after you have worked with them, or you can request that they select the option to submit their business plan and financials at a later time.  We will then contact you directly, much as we do now and you can send us the documents to upload.
Other changes to be aware of include:
Your referral partner page on the Transmit Startups website will continue to send you and us a notification when somebody registers, but they will then be directed to the Start Up Loans website to continue their application. You should continue to use your specific landing page so that your leads are tracked accurately.

The application will time out 90 days after the applicant has their credit search done; after this point they will need to start a new application through the Customer Portal.

If an applicant is declined at the credit search stage or by one of our assessors, they are unable to start a new application for another 6 months. This will be managed through the Customer Portal.

The credit and eligibility decision is made automatically by the new platform, meaning Transmit no longer have any involvement in this part of the process or any access to an applicant's credit information.

If your applicant has previously registered with another Delivery Partner of the Start Up Loans scheme, their application will be automatically assigned back to the original Delivery Partner. In these situations, the applicant will need to contact Start Up Loans directly to request that they are transferred to Transmit Startups. "We're delighted to be the 2000th loan recipients!"
JO CARTER – DUKES GASTROPUB
Entrepreneurs Backed
10962
APPLY FOR A START UP LOAN