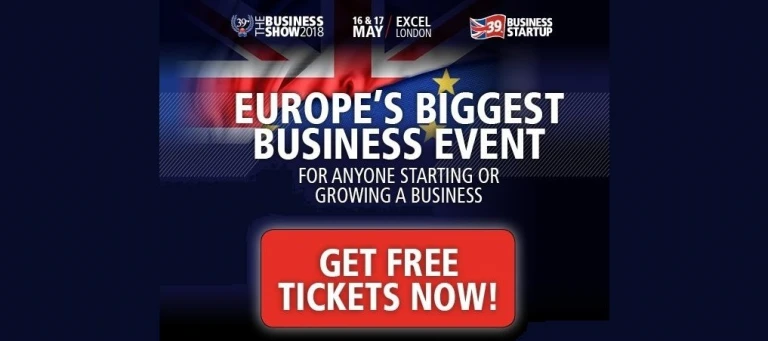 Transmit Start-Ups have teamed up with Prysm Group and their Business Show 2018 expo at ExCel in London on 16th & 17th May. We will be exhibiting at the event and we have also agreed to be their media partner, helping them promote the event to our start-up community, including our partnership network.
The Business Show is not only renowned as one of the country's leading business exhibitions, but best of all, it's free to attend. It is the perfect event for startup entrepreneurs looking to benefit from listening to respected speakers, attending interactive masterclasses and meeting industry-leading suppliers. The two-day event attracts more than 25,000 businesses who attend with the primary agenda of improving and expanding their business.
Some of the speakers confirmed at this year's event:
Simon Woodroffe – Founder of YO! Sushi & one of the first "Dragons" on the UK series of Dragons' Den
Simon Woodroffe OBE is the creator of YO! Sushi, the conveyor belt sushi restaurant chain which opened in 1997 and now has over 100 sites around the world. On the 16th & 17th of May Simon is letting you into his world and mind and will share with everyone attending about what he learned along the way and how he stayed on the tightrope to open YO! Sushi, YO! Below, YO! to Go, YOTEL and soon YO! Home.
Ben Jeffries – Founder of INFLUENCER & UK's Leading Expert in Influencer Marketing
Ben Jeffries is a 21-year-old entrepreneur who, after experimenting with his first venture, a clothing brand called Breeze, realised the best advertising isn't advertising. This May 2018 Ben will be sharing his best advice on high-ROI influencing marketing campaigns – campaigns he designed for brands such as Primark and UBER.
Alan Barratt – Founder of Grenade – fastest growing nutrition company in the UK
Alan Barratt has been involved in pioneering the UK sports nutrition industry since he was 14 years old, and this year represents his 28th year in the health and fitness area. He is the founder and CEO of Grenade – fastest growing brands in the UK. The brand has won a multitude of awards for its innovative products. As a £500 start-up from a spare bedroom at home, the Barratts sold shares in Grenade in March 2017 valuing the business at £72M.
If you want to get your complimentary ticket for this influential event register here. http://bit.ly/2sWnmyj
Transmit Start-Ups will be exhibiting so please come along and say hi. If you are interested in taking an exhibition stand yourself you need to contact Ryan Treloar, Event Director (mention Transmit Start-Ups!) 01872 218007 ryan.treloar@prysmgroup.co.uk "We're delighted to be the 2000th loan recipients!"
JO CARTER – DUKES GASTROPUB
Entrepreneurs Backed
10962
APPLY FOR A START UP LOAN