How to start a business with no money
HOME / How to start a business with no money
You don't need pots of money to start your own business. Many multinational companies started out with little more than a big dream and a small investment.
By using the skills and resources you already have – and taking advantage of free business advice - you can start a successful business with very little upfront investment.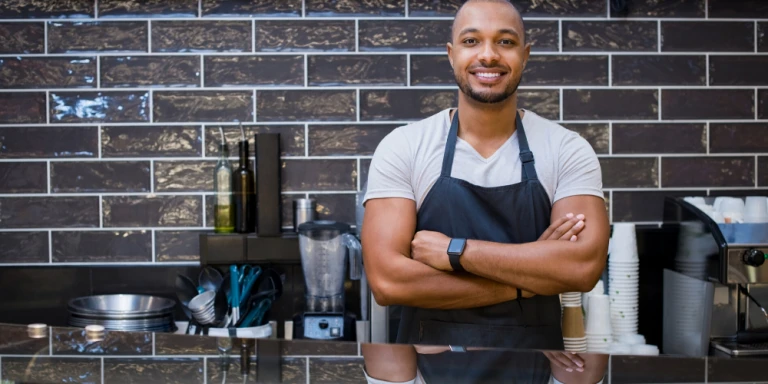 STEP 1 : Use the skills you already have
There's no-one in the world that's quite like you. You've got interests, experience and skills that no-one else has. Somewhere out there is a gap in the market that's the perfect fit for you. The trick is to find it!
Start by brainstorming
Start by brainstorming everything you have to offer.
What business skills have you already got?

What have you done in the past?

What expertise have you got?

What do you know?

Who do you know?

What free or cheap resources do you have access to?
You'll start to build a picture of the resources at your disposal.
Need some inspiration? Read our article on How to come up with a business idea
Then narrow down your ideas
Once you know the resources you have available, start to look for problems that those resources could solve. You might need to think creatively.
For example, if you are a great with numbers, you might automatically think about doing the books for local businesses. But what about tutoring school children? Or providing coaching to adults who need more confidence around cash?
You might dream of opening your own café. But whilst you raise the money for that, you could offer cooking classes, become a personal chef, supply sweet treats to local cafes.
Identifying how you can use your skills to deliver a service people want, is a great first step towards business success. Once you've come up with an idea, check out our article on working out if your business idea has potential.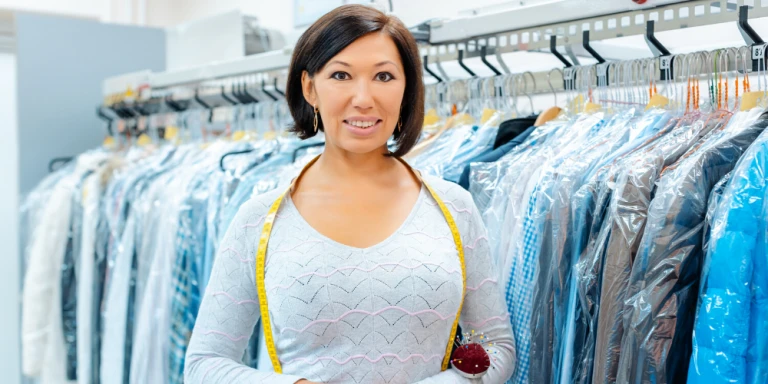 STEP 2 : Offer a service instead of a product
Service-based businesses are cheaper to start than product-based businesses.
With a product-based business – manufacturing or selling products – you'll incur upfront costs to develop the product or buy stock.
With a service-based business – like gardening, design, cleaning, consultancy – you have hardly any overheads. This means you can get started with minimal investment and make money through 'sweat equity' – the effort that you put in.
A great example of a low-cost, sweat equity business is domestic cleaning. If you use the homeowners' cleaning products, potentially your only up-front cost will be promoting your business.
And with the help of social media, you might not even need to pay to do that. Post about your cleaning services on local Facebook groups and ask friends to share…you could have clients in no time.
Check out our list of 35+ businesses you can start with no money and see how many are service-based.
Don't forget, if you do need some money to start up, Start Up Loans are available for as little as £500, all the way up to £25,000.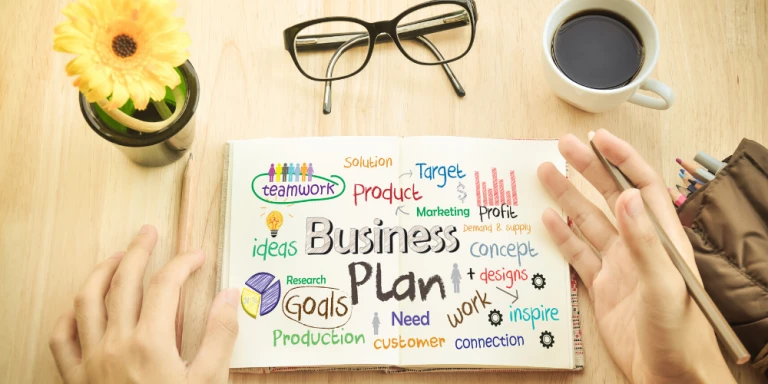 STEP 3 : Plan for success
You might be starting your business on a shoestring budget but that doesn't mean it isn't a 'proper' business. And, as such, you should do the proper planning to make it a success.
Working out your business goals and how you'll achieve them is an important step towards success. Even if you're not planning on spending much, working out your costs in advance will help you plan and prepare for them. Take a look at our guide on How to Write a Business Plan to get you started.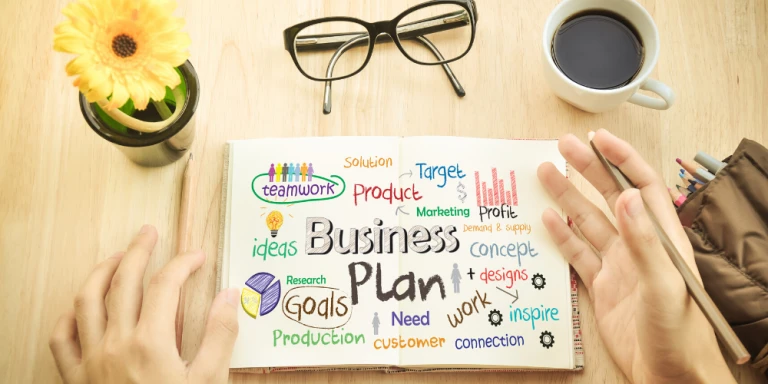 STEP 4 : Use free promotional tools
The internet isn't just good for cat gifs and mindless memes; it has a wealth of free business resources that can help you promote your new venture for little or no money.
Promote your business for free
 makes it easy to promote your business for free or very little money. Setting up a Facebook page for your business is a quick and – relatively – easy way to create an online presence for your business. Don't forget other channels like LinkedIn, Twitter and Instagram.
Build a free business website
You don't need an all-singing-all-dancing website to launch your business. There are lots of free online tools that will allow you to build a professional looking website quickly. And so long as you don't mind using their branded web address, you won't have to pay for a web address either. Take a look at sites like at Wix and SquareSpace.
DIY (Design It Yourself)
Free online design tools make it easy to create professional looking logos and marketing materials. If you've got an eye for design and the time to spare, explore sites like Canva to create high quality designs free of charge. Then share online for free (or pay to have them printed.)
Create content
Unlike traditional marketing that pushes information out to people, content marketing pulls them to you through interesting, inspiring and informative posts. And the great thing is, if you've got a way with words and a platform to publish it, content doesn't have to cost a thing. Our guide to creating a social media content calendar for your small business might inspire you.
Sell via third parties
Online marketplaces such as eBay and Etsy provide a low-cost way to get your products in front of the buying public. There are usually no upfront costs – you pay a commission on anything you sell – so can test the water without any upfront financial commitment.
Reduce your costs with free online resources
From promoting your startup on social media, to DIY design with online apps, tech can help you promote your business for very little money.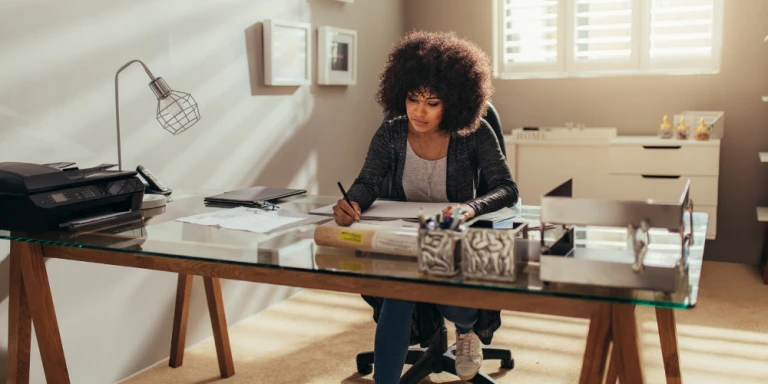 STEP 5 : Don't tie yourself into long term commitments
It is inevitable that you'll incur some costs when starting a business. But there are plenty of ways to keep these to a minimum. By using free and flexible resources wherever possible, you'll be surprised where you can save money.
Save money on space
There are lots of places that you can work without it having to cost a fortune. From co-working spaces that provide shared space for freelancers, to meeting spaces you can hire by the hour, you don't have to make a long-term commitment to get a professional place to work. Our Guide to Starting a New Business lists the pros and cons of working from home.
Test the market
If your business is selling products, you can test the market at minimal cost…literally. Instead of launching straight into a shop, research local markets and take out a stall. You'll be able to find out whether people like your choice of products and are willing to pay what you charge. All without the ongoing cost of a permanent retail space. Selling online is another affordable option.
Hire freelancers
If you need extra help but can't afford to take on staff, freelancers are a cost-effective alternative. You can hire a freelancer on a short-term basis to help you with specific business needs. You don't even need to be in the same place. There are a growing number of virtual assistants who can help you with everything from invoicing to Instagram.
Network in person and online
Don't underestimate the value of personal connections. Network with other professionals in person and online. You might be surprised by how happy people are to help.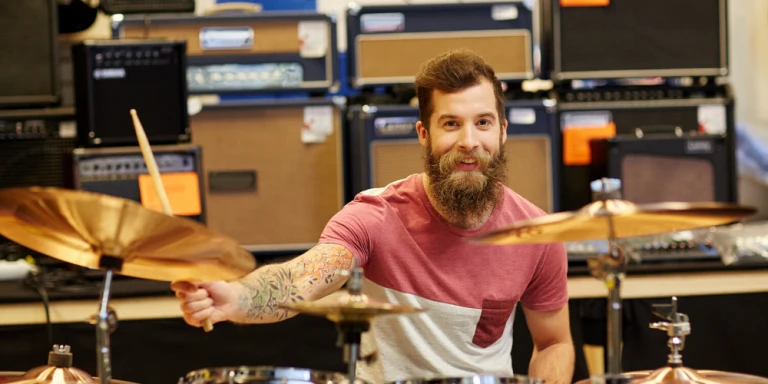 STEP 6 : Take advantage of free business advice
There are lots of sources of free business advice and guidance for people who want to start their own business. Don't underestimate the value of personal connections. Network with other professionals – in person and online – and you might be surprised by how happy people are to help.
Where can I get free business advice UK?
Growth Hubs – there is a network of regional Growth Hubs that provide free, impartial business advice

Business Support Helpline – you can call 0300 456 3565 in the UK to talk to a business adviser

Gov.uk – the government website is your best source for info about registering a business, legislation, VAT and tax

Local events – check Eventbrite for free business events in your local area

Startup specialists – like Transmit; the Transmit Startups website is a wealth of information on starting a business. Find our free guide on How To Start Your Own Business, here.

Networking groups – local networking groups may provide access to informal business advice and training. Networking groups might be physical (like a local business breakfast meeting) or online (like LinkedIn or Facebook groups for local businesses)

Incubators and accelerators – these programmes help startup businesses to grow, often providing business advice, resources, investment and mentoring (note: they are often competitive and will usually expect a return on that investment)

Mentors – you may be able to find a mentor through your personal or professional networks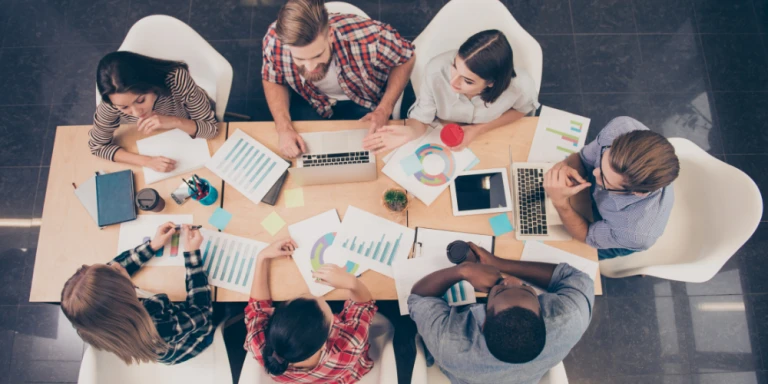 STEP 7 : Explore your funding options
You might be surprised at the funding options available to small businesses.
From 'free money' in the form of grants, to loans specifically designed for starting a business, there might be an affordable option that works for you. Take a look at our Guide to Funding a New Business and research your options online.
Start Up Loans are available from as little as £500, all the way up to £25,000. See how much you could borrow with our Start Up Loan calculator.
What business finance is available for small businesses?
Personal investment – putting your own money into your business to help it grow

Business loans – a loan from a bank can boost your finances, but can be hard to get as a new business

Start Up Loans – loans specifically designed for new businesses, with business advice included. Discover Start Up Loans

Grants and government support – increasingly hard to find but available in some sectors

Private equity – financial support from an investor, in exchange for a share of your profits or business. Learn about angel investors

Peer-to-peer lending – borrow money from an investor, or group of investors, via an intermediary

Crowdfunding – raising money from supporters online. Find out more about crowdfunding for startups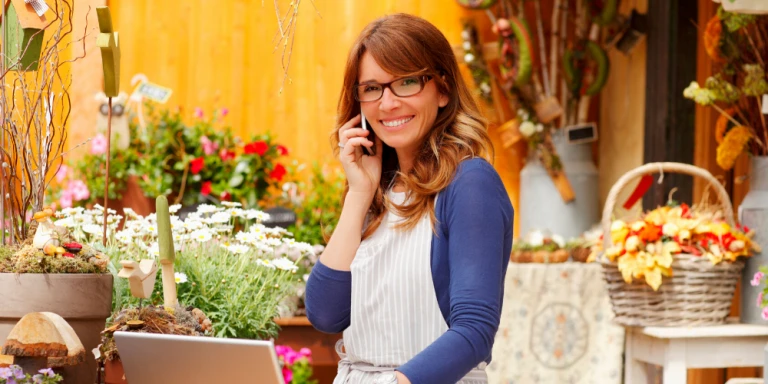 STEP 8 : Don't give up your day job…yet
As tempting as it might be to quit your job and commit to your business idea, it can take time to turn a profit. It makes sense to continue in your current employment and build your business in your free time. It can be challenging to juggle both but it provides more financial security.
If you do want to leave your job, make sure you have a financial safety net first. Assume it will take six months to set up your business and start seeing returns. Use our Personal Survival Budget planner to work out how much you need to live on each month and try to have six months' money in reserve before you quit.
Follow our eight steps to starting a business with no money and you could be your own boss in a matter of months. If you've got a great idea for a business and want to check out your finance options, take a look at our affordable Start Up Loan calculator to see how much you could borrow.